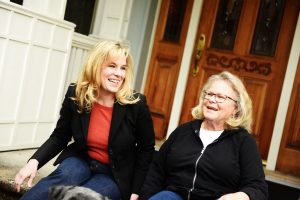 Karen Volk began selling real estate in 1990. In her first full year, she became the top-selling agent in Douglas County.  
In June of 2001, Karen opened Karen Volk Realty. It didn't take long for Karen's talent and skill to become evident. Only a few months after opening – and still, as a one-person office – Karen Volk Realty was the second highest-grossing office in Douglas County for closed transactions!  
In September 2001, Karen Volk Realty became a family affair when Emily Volk got her real estate license and began selling real estate with Karen. The mother-daughter combination has been a success. Both Karen and Emily both want the same things for their clients – exceptional, personal service.  
Karen and Emily are known for their persistence and patience on behalf of their clients. You can bet they have seen it all. Their combined years of experience pay off for anyone buying or selling their home with Karen Volk Realty.  
Karen and Emily can help ensure your property is priced right and sells fast. If you are in the market to purchase a property, they can make sure you are informed and clear on all the details that surround the most important purchase of your life.   
Both Karen and Emily were born and raised in Douglas County and share a passion for antiques and old homes. Together with Karen's husband and Emily's father Hap, the Volks have restored numerous old homes and continue to do so today.    
In fact, one of their favorite restoration projects was restoring the home that now serves as the Karen Volk Realty office in historic downtown Roseburg. The Volks take pride in the work they do, which transcends into every aspect of their real estate business. 
Another passion of the Volks is their dogs. Karen and Emily have always owned multiple pooches. Karen Volk Realty clients may meet one (or more) dogs while looking at homes or visiting the office. Don't be afraid of the size or enthusiasm of the four-legged members of the team. They are harmless – and always happy to meet new people! 
Karen and Emily are dedicated to serving their customers with honesty and integrity. Karen Volk Realty has succeeded primarily on referrals from past customers, and they take great pride in their reputation, built over the past 30 years. 
Whether buying or selling real estate in Douglas County, Karen and Emily are committed to serving everyone with dedication and the good old-fashioned hard work people deserve.