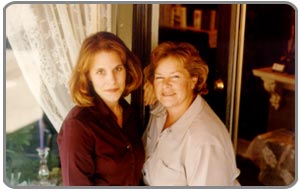 Hi my name is Emily Volk and I would like to introduce someone very special to me, my mother, Karen Volk. Karen coincidentally is also my broker and owner of Karen Volk Realty. Karen started selling real estate in 1990 and within her first full year she was the top selling agent in Douglas County. In June of 2001 Karen opened her own office, appropriately named, Karen Volk Realty. Her success has surprised no one but herself, in fact for the month of February Karen Volk Realty was the second highest grossing office in the County for closed transactions. Not too bad for a one-person office.
Karen Volk Realty is no longer a one-person office. In April after I graduated from the University of Oregon, I started selling real estate with her.
My mother and I were both born and raised in Douglas County and share a passion for antiques and old homes. As a family along with my father Hap, we have all worked side-by-side restoring nine old homes. One of our favorite projects was restoring a building in historic downtown Roseburg which now serves as our office. My family takes pride in the work we do which we believe transcends into all aspects of our real estate business.
Karen and I are both dedicated to serving our customers to the best of our ability. Our business is based primarily on referrals from past customers and we take great pride in our reputation. Whether buying or selling real estate in Douglas County Karen and myself are committed to serve each and every person with the honesty, integrity, and good old-fashioned hard work you deserve.
We hope you enjoy browsing our website and if you have any questions about buying or selling real estate please do not hesitate to contact us.